***A special thank you to Eminence Independent Schools, Thom Coffee and James Allen.***
Galileo Galilei, Hellen Keller, Rosa Parks, Martin Luther King Jr.,
Amelia Earhart, Mahatma Gandhi, Harriet Tubman…
What do all of these people have in common? They all made an impact on our world today because of their bravery.
A quick search on Google led me to these results…
When searching the word "brave"…

279 billion results
9.9 million videos
10.9 million news articles
1.8 million books
2 million movies
The word "Brave" is nothing new to this world… However, scientist are still trying to unravel the mystery of bravery within humans.  Are we born with it? Is it learned? Can it be increased?
A little bit of science for you…
According to the article, What Makes Someone Brave, "bravery emerges from a primal struggle between the brain's decision-making hub, the prefrontal cortex, and the focal point of fear, the amygdala." The article goes on to explain that bravery stems from conquering fear by knowing your surroundings and some more brain scientific stuff (that I will not bore you with).
Describing the Word…Brave
Synonyms: Courage, boldness, fearlessness, mettle, fortitude, intrepidity, valiant, gallant
Definition: ready to endure and face an unpleasant behavior without showing fear
When you ask students who is brave? Answers range from medical personnel, their moms and dads, and even to fictional super heroes… what do these groups of people have in common? In the eyes of the child, they have all done something heroic. But, I often wonder why most students do not consider themselves "brave?" Then, I take it one step further… maybe it is my fault that they do not feel brave. Do I give them the chance to be brave? Do I give them the chance to show courage? Do I give them the chance to be bold? Do I give them the chance to face and conquer fear? How many of my students would answer "yes" to those questions?
So, what is #nextlevelbrave?
Being able to connect with the world on Twitter has opened my eyes to those who are apart of the #nextlevelbrave movement. I am amazed at what educators are accomplishing within themselves and within their students, community, and state. They are paving the way for others.
I recently had a chance to interview Thom Coffee, the Assistant Superintendent of Eminence Independent Schools, and James Allen, School Librarian/EDhub Director. If you have not had a glimpse of their EDhub, WOW! They have taken #nextlevelbrave to heart.
"Our space and the expertise of the staff that Dr. Berry [Superintendent of Eminence Independent Schools] has assembled pushes the boundaries of what is possible in public education."
When asked about the original reason for building the facility, Coffee stated, due to student growth within their district, they realized they needed a facility to "match their philosophy… the EDhub is designed to support the kinds of learning experiences we know are important for students to have." Exactly. As educators, we must give our students experiences to create a chance for them to display bravery.
#nextlevelbrave is acting upon the opportunity to endure or face an obstacle doing so without hesitation, searching for a solution, conquering the unknowns with confidence.
What does #nextlevelbrave look like?
There is not one right look, but is different from one place to the next. Mr. Coffee melted by "innovator's heart" when he discussed how the Edhub connected to the word bravery.
According to Coffee, "Life is not about simply studying and having the right answer on a test. Schools must prepare students for difficult and meaningful work…where they will attempt solutions to complicated problems, work collaboratively to solve issues and fail in multiple attempts before arriving at a solution. That takes bravery. It takes a willingness to fail and the courage to try again."
I know, right!?! This vision is slowly piercing the world of our school leaders at district levels, administrators within our school buildings, and educators within the classrooms.
What does #nextlevelbrave involve?
Chances. Experiences. Opportunities.
Teachers Do
Teachers have to be #nextlevelbrave as well. We have to take chances, plan experiences, and give opportunities. Think about a time when you were asked to leave your comfort behind to accomplish something that seemed impossible.  How did you feel? What was your first reaction? We have to model #nextlevelbrave in front of our students.  Just this past week, I introduced a new tech tool to my students, and I was transparent with them… a fourth grader building their own Journey website. Why not? The vulnerability was transparent. I wasn't for sure if this was going to be successful and I still do not know. That "what if…" is not going to stop me and they see that on a daily basis.
Allen shared a story about a teacher who came to him in a manner that he feels is "quite possible the highest praise" a school could ask for. The teacher simple stated… "James, in every other school I've worked in I wouldn't have given this idea a second thought, but here, I feel like anything is possible." Every teacher should feel this way about their school. Possibilities being endless.
Students Do
Students will be #nextlevelbrave if you support them.  Let the pictures speak for themselves.
Students learning Newton's Law from building golf courses.

Students are taking a virtual field trip to research locations of penguins.
Students presenting their speech campaigns.
Student's service projects being displayed.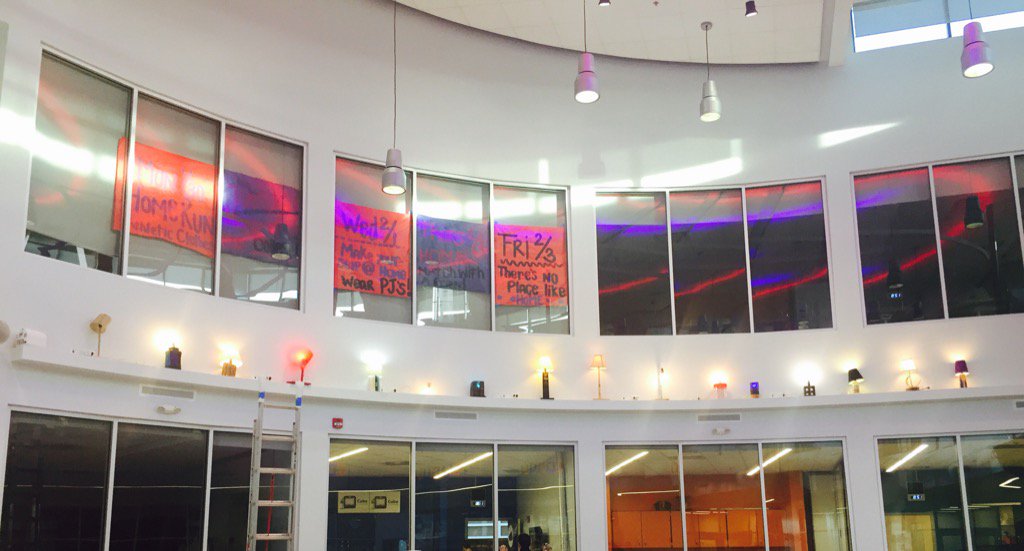 Students display their Lamp Design Project.
What Now?
How will you create a space/time for students to showcase their #nextlevelbrave?
What support will you need?
What resources will you need?
How will you support others?
What is holding you back?  
Be Brave.

What is holding your students back?
Push them to Be Brave.
"Bravery isn't just completing the obvious brave task. Sometimes bravery is quiet. The EDhub and our school culture allows for this quiet bravery to flourish. Teachers and students are able to dream, and try, and try again, and learn from this process, but also learn from this awesome atmosphere of innovation and risk-taking." ~Allen